I've made a new plasma sprite for the Vogon posse.
The best part is it burns the Vogon 'V' into the wall.
Here's a video showing it in action: (sorry for the bad quality... I used my digi cam to record the screen:P)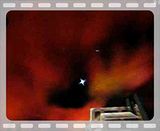 Download it here:
http://tim.stasis.org/www-sites/tsan/q3a/pak_DS_VOGON_plasma.zip
Unzip, and drop the pk3 into your Quake III Arena\baseq3 folder.
Enjoy!